Make your special someone feel your love and appreciation with our Galaxy Rose.
This beautiful, vibrant and undying Galaxy Rose is like your love for your beloved.
It's carefully and lovingly handmade for you and your loved ones!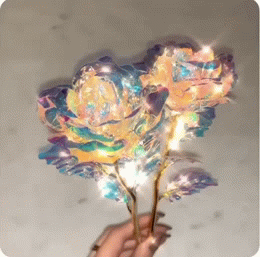 HOW THEY ARE MADE
With you and your loved ones in mind, we crafted each Galaxy Rose uniquely.
We formed the golden stem that looks majestic and luxurious to touch.
We then placed each iridescent fibreglass rose petals carefully by hand to complete the lovely and magical look your special someone will fall in love with.
Each Galaxy Rose are made to last a lifetime to show your undying love and appreciation to your loved one.
Each Galaxy Rose is unique and carefully and lovingly handmade.
It comes with a cute gift box.
With a standard length (about 11 to 12" long)
It's your perfect gift for all special occasions.
From graduation gift, birthdays, anniversaries, Valentine's day, weddings, engagement, baby showers, mother's day or you simply want to surprise and show how much you love your special someone.
Get yours now and fall in love with our Galaxy Rose.
Package Includes:
1 x Galaxy Rose
1 x Cute Gift Box
1 x Love Stand
Click 'ADD TO CART' button above now to get your special someone a Galaxy Rose.